---
Cooperative Paws Service Dog Coach™ is a service dog trainer certificate program developed by Veronica Sanchez M.Ed. CABC, CPDT-KA, an expert in service dog training. The program is for experienced professional pet dog trainers who would like to expand their knowledge of service dog training. Successful graduates earn the respected SDC™ certification.
"
It was a well executed and illuminating program! Thank you for raising the standards in our industry.
"
Dianne Keck KPA-CTP, SDC
NeuroDog Training, Arizona, USA

The Need
The demand for service dogs has skyrocketed. Whether working with "owner-trainers," people with disabilities training their own dogs for service work, or for a nonprofit service dog program, there is a growing need for dog trainers qualified to train service dogs.
"I took the Cooperative Paws Service Dog Coach Certification course, and it was AMAZING! I am a professional trainer with just under 10 years of experience, and I was blown away by the content and presentation of Veronica's service dog training coach certification program. The information is clear and well organized and enjoyable to go through. She covers all of the topics that are needed to become an effective service dog trainer. I am so glad that I invested my time into this program, and I am already using skills that I learned in the course in my everyday work as a dog trainer. Five stars!!! I recommend this course to anyone considering working with service dogs and their owners."
Elizabeth Ashley CTC, SDC
Calvert Dog Academy, Maryland, USA

A Complex Challenge
There is a lot to think about when it comes to service dogs: disability challenges, legal issues, public access, safety and the dog's needs. On the other hand, service dog training is extremely rewarding. You train a dog complex, high level skills and make a difference in a person's life. Also, people training their own dogs for service work are some of the most committed clients you will ever find!
"I kept getting requests for service dog training, but I did not feel I knew enough about the topic. When trying to find places to refer the callers, I found very little in the way of positive reinforcement options. Veronica is a skilled, positive-reinforcement trainer, so her program was exactly what I needed to become comfortable helping owners train their service dogs in a way that is enjoyable, fair, and free of intimidation."
Lisa Marino PMCT-2, KPA-CTP, CPDT-KA, FP-MT, CSAT, SDC
Head of the Class Dog Training, Virginia, USA
Learn from Veronica, a Service Dog Expert
The Cooperative Paws Service Dog Coach™ is the best of both worlds, the convenience of online learning combined with hands-on practice and direct guidance from an industry expert, Veronica Sanchez M.Ed. CDBC, CPDT-KA.
"A huge shout out to Veronica for creating such an amazing and
informative program, for being a lovely teacher and support system through this journey."
Christie Golebiowski ABCDT, SDC
Training Loyal Companions, Winnipeg, Canada

Veronica knows what it's like to run a pet dog training business. She will give you valuable recommendations to fit service dog training into your business in a way that works for you. You will learn how to help clients, provide an important service and grow your business.
Have a question about how to train a task? Not sure how to address a challenge with a client? You are encouraged to ask questions via email and in course discussion areas. You will receive individualized feedback on your training as you submit videos of your work. Veronica is committed to helping students succeed.
"Veronica was fabulous to work with. She was responsive and thoroughly answered all of my questions. This program is a must have for anyone working with clients who want to train a service dog."
Laura Sharkey PhD, KPA-CTP, SDC
Woofs Dog Training, Virginia, USA
A Comprehensive Curriculum
The 12-week program is thoughtfully organized. You will be well-prepared to train service dogs for people with a wide range of disabilities with confidence and integrity. The course includes information on:
Service dog laws

Selecting service dog candidates

Training

Foundation Skills

Tasks

retrieves

balance/brace

opening/closing doors

lights on/off

hearing alert

anxiety alert

Deep Pressure Therapy

scent-based medical alert (diabetes, seizure)

Public Access Training
Incorporating service dog training into your business

Getting started

Virtual services

Marketing

At-home only service dogs
Contracts, forms

Working with People with Disabilities

Training accommodations

Communicating with healthcare professionals

Service dog program challenges

Placing dogs

Educating recipients

And much more!
SDC students have access to an extensive Learning Library of scientific research and resources on service dog specialties including mobility, guide, hearing, psychiatric/PTSD, autism, diabetic, seizure-alert and more.
""I found the program amazing and your teaching style inspirational. I strive to be more like you with my students."
Leanne Good, KPA-CTP, SDC
Wow! Dog Training, British Columbia, Canada

Practical, Doable Coursework
The SDC program has a flexible format so you can complete lessons at times that are convenient for you. The mix of video presentations, readings, hands-on projects with individualized feedback keeps the process interesting. Successful graduates earn the SDC™ certification and can use the Cooperative Paws SDC® logo in their marketing materials and website.

"I really enjoyed the course. The projects were super awesome and caused me to consider things that I never would have."
Ali Imel RVT, KPA CTP, CPDT-KA, SDC
Kansas, USA
Business Tools You Can Use
No one likes paperwork! You will receive numerous business tools to use in your marketing including forms, letters, checklists and handouts so you can hit the ground running training service dogs:
Service dog candidate assessment

Public access assessment

New client intake & questionnaire template

Marketing tools – website content examples, social media and SEO tips

Client handouts

Client contract addendum, Medical release, Healthcare provider letters & forms created in consultation with an animal law attorney
"My service dog work is exciting and ever-changing. No two clients are the same. The dogs are always a breath of fresh air and yet challenging in the same moment. I have the best, most rewarding job in the world!"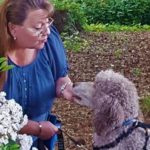 Ginger Hetrick CCDT, SDC
Pawsitively Obedient, South Carolina, USA
Support for Grads
Graduates receive a beautifully printed certificate to frame when they earn the SDC credential. They are listed on our online directory for SDCs. SDCs also have access to industry updates and support through an exclusive, private email group.
"A fantastic, supportive and thorough program. I learned so much from this and was so pleased to receive my certificate as an SDC."
Donna Russell IMDT, SDC
Every Day Dogs, Albany, Australia
A Great Value
Service dogs require 2 years (or more) of intensive training and maintenance training through the dog's retirement. The service dog training process is flexible and can include a combination of services such as private lessons, board and train, day training and group classes. Whether you want to work with owner-trainers, expand your skill set or work for a non-profit service dog program, this program is a great investment.
Tuition:

$

3100 USD
CEUs

CCPDT

CPDT-KA

and

CPDT-KSA: 21 (12 Skills & 9 Knowledge

)
CBCC: 9
---
See what our grads are saying.
By specializing in service dog training, I have a niche that sets me apart from other trainers.
I'm thrilled to teach service dogs to perform important tasks and help service-dog teams work together – building bonds based on trust and mutual respect. It is a wonderful and amazing process to be a part of.
Being able to offer service dog training has definitely impacted my business in a positive way. We get a lot of service dog clients, of course, but I also feel like our work training service dogs allows people to trust us more with their pet dogs.
…I needed to learn more hands-on techniques as well as gain knowledge about how to incorporate service dog training into my business. I was very insecure about this before the course, and when I finished I felt more confident taking the next step with my business.
I asked the listserv for resources to learn about service dog training. The Cooperative Paws SDC program was highly recommended by a variety of people. I did some research and was very impressed by Veronica, her credentials and her firsthand experience. I signed up as soon as possible!